Appointment notice of Officer Cadet Batch (1st Group) in 2020 in Navy
Bangladesh Navy is a naval unit of the Bangladesh Military Force, which has 1, 18, 813 square kilometer maritime border and security of all ports and military installations in this area. The basic responsibility of the Navy is to protect Bangladesh's military and economic interest in the country and abroad.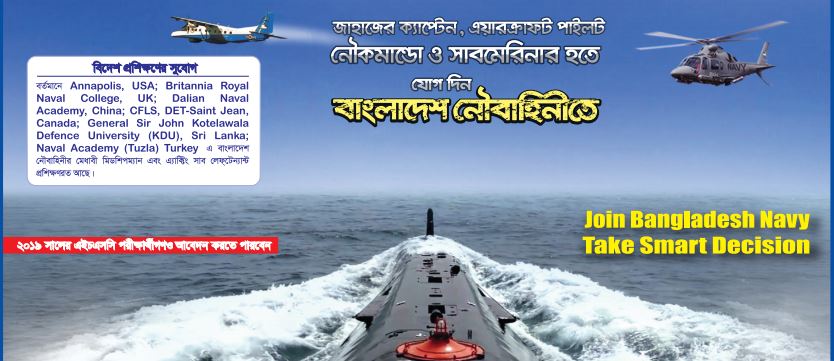 Bangladesh Navy recently published the notification of appointment of manbul in the 2020 Cadet Batch officer. According to the notice, the Bangladesh Navy will get an opportunity to apply for a 20-year officer cadet batch in both men and women and also the HSC candidates in the year 2016. The process of application has already begun. Apply for the officer cadet position as on May 10, 2010.
Educational Qualification: Applicants for application to the Bachelor of Cadet in 2020 will have to pass at least GPA 4.50 in Secondary and Higher Secondary or equivalent examination from the Department of Science and both subjects must have minimum GPA 4.0 in both mathematics and physics subjects. For English medium students, 'A grade' in at least three subjects in 'O' level and 'B grade' in two subjects and 'A grade' must be of 'B grade' in at least two subjects. But it is compulsory to have both these subjects in physics and mathematics.
Applicants should only have to pass GPA 4.50 at the secondary and higher secondary examination from the Department of Business Studies in the supply section and the GPA should be 4.0 for the accounting and business organizations and management at the Higher Secondary Examination. Candidates working in the Armed Forces will have to pass the Navy High Level Examination (HET) or equivalent Bangladesh Army and Bangladesh Air Force Examination. Apart from this, the HSC examinations of the Naval Officer Cadet will also be able to apply.
Physical fitness: In male candidates, height should be at least 5 feet 4 inches, weighing 50 kg, chest size is 30 inches in normal and 32 inches in width. In case of female candidates, height of at least 5 feet 1 inches, weight is 46 kg, and chest size will be 28 inches and 30 inches in normal condition.
Applicants should be between 16.5 years to 21 years old, but for the candidates working in the Armed Forces, they should be between 18 to 25 years of age, on January 1, 2020, to apply for all posts in the 2018-B officer cadet batch. Both male and female must be unmarried and citizens of Bangladesh for the application.
The application process
There are two methods of application as an officer cadet in the Navy. Online and fill the application form directly. Applicants for the online application should visit www.joinnavy.navy.mil.bd and click on the APPLY NOW button on the right of the home page and follow the application procedure and fill the application form properly. After completing the application form, applicants will be required to pay application fee of 700 (excluding charges) through online banking or mobile banking. In addition to online payments, applicants can apply online in any bank of Bangladesh by submitting Tk 700 in favor of 'BN Recruitment Fund' Trust Bank Ltd., Principal Branch, Dhaka and collect payment order online.
After the completion of the online application process, candidates will have to download and print the Form Information-1 and the Personal Information Form, along with the call-up letter for the initial interview, and then take necessary documents along with the subsequent interview.
In order to apply for manual procedure, the applicant will have to pay a pay order or manisriasith by depositing 700 rupees in favor of 'BN Recruitment Fund' Trust Bank Ltd., Principal Branch, Dhaka. After that, the pay order or Manirisipp copies of the application should be collected in the manual application form. Manually duplicate the application should be attached as 3 copies of passport size photographs, Maniriscripts and 1 copy of the applicants online, all the certificates of educational qualification, citizenship and character code should be attached. Download the ad below to learn about the detailed process of application and the full details of the attachment in both online and manual methods.
Selection Process and Training
Initially candidates will be selected by candidates from primary and secondary examinations from the applicants, written tests on their intelligence and English skills and general knowledge. Primary health examination and initial interview will be held at the center mentioned on May 27 to May 30, 019 and written examination on May 31, 01 in Dhaka, Chittagong and Khulna centers. Candidates will be selected from the candidates who have passed the intermediate examination by the Inter-Services Board (ISSB) and the final health examination will be finalized. The finalized candidates will be given regular commissioning of 'Sub Lieutenant' after completion of 10-week training in the Bangladesh Military Academy and subsequently after completing 3 years of successful training, including 24 months as Officer Cadet at Bangladesh Naval Academy and 12 months as MidshipShip.
In addition to professional training in the academically selected candidates, BBA degree will be given from B.Sc. (Honors) and Supply Section cadets of Bangladesh University of Professionals (BUP), on the subject of Maritime Science of cadets of Executive Branch. Apart from this, B.Sc. Engineering degree will be given to Engineering and Electrical Section cadets from Bangladesh University of Engineering and Technology (BUET) and Military Institute of Science and Technology (MIST).
Facilities and promotion
Finally take it