job circular of Bangladesh Police Sub Inspector SI-2019
Sub Inspector ( SI )

Bangladesh Police Bangladesh's main civil law-enforcement agency The organization is controlled by the Ministry of Home Affairs, Government of Bangladesh. The head of the Bangladesh Police is called the Superintendent of Police or the Inspector General of Police.
In Bangladesh Police, the notification for the appointment of the foreign cadet sub-inspector (disarmed) of the year 2019 has been published. The recruitment process will start from April 28, 019.
Age limit: On April 01, 019, general quota candidates are 19 years old and 27 years old and 19 to 32 years of the children of freedom fighters. Date of birth mentioned in SSC / equivalent certificate is considered final. Only single women and men can apply.
Educational Qualifications and Experience: The minimum graduate degree from the approved university and the experience of the computer must be completed.
Physical fitness: (a) Height 5 feet 4 inches for male candidates (all quota) and chest size should be 30 inches in normal and 32 inches in boiling.
(B) All quotes for women candidates will be 5 ft 2 in height.
The weight of the candidates will be determined according to the height and age.
Physical size and physical examination place and date:
What to bring with the candidates on the day of physical examination:
Certificate of Certificate of Educational Qualification / Certificate of Certificate.
B) Copy of the certificate of the certificate by the head of the latest educational institution.
C) Certificate of permanent citizenship
D) National identity, if not, the father / mother's national identity.
E) 3 copies of passport size color photographs
F) Certificates of freedom fighter
G) The main certification of computer training.
Salary and benefits:
After successful completion of basic training, according to the tenth grade of National Pay Scale of 2015, salary will be given on the scale of 16000-38640.
Apart from this, traffic allowance, free clothing, risk allowance, low cost rationing and medical facilities. There will be an opportunity for UN peacekeeping missions, including the promotion of higher positions in accordance with the rules.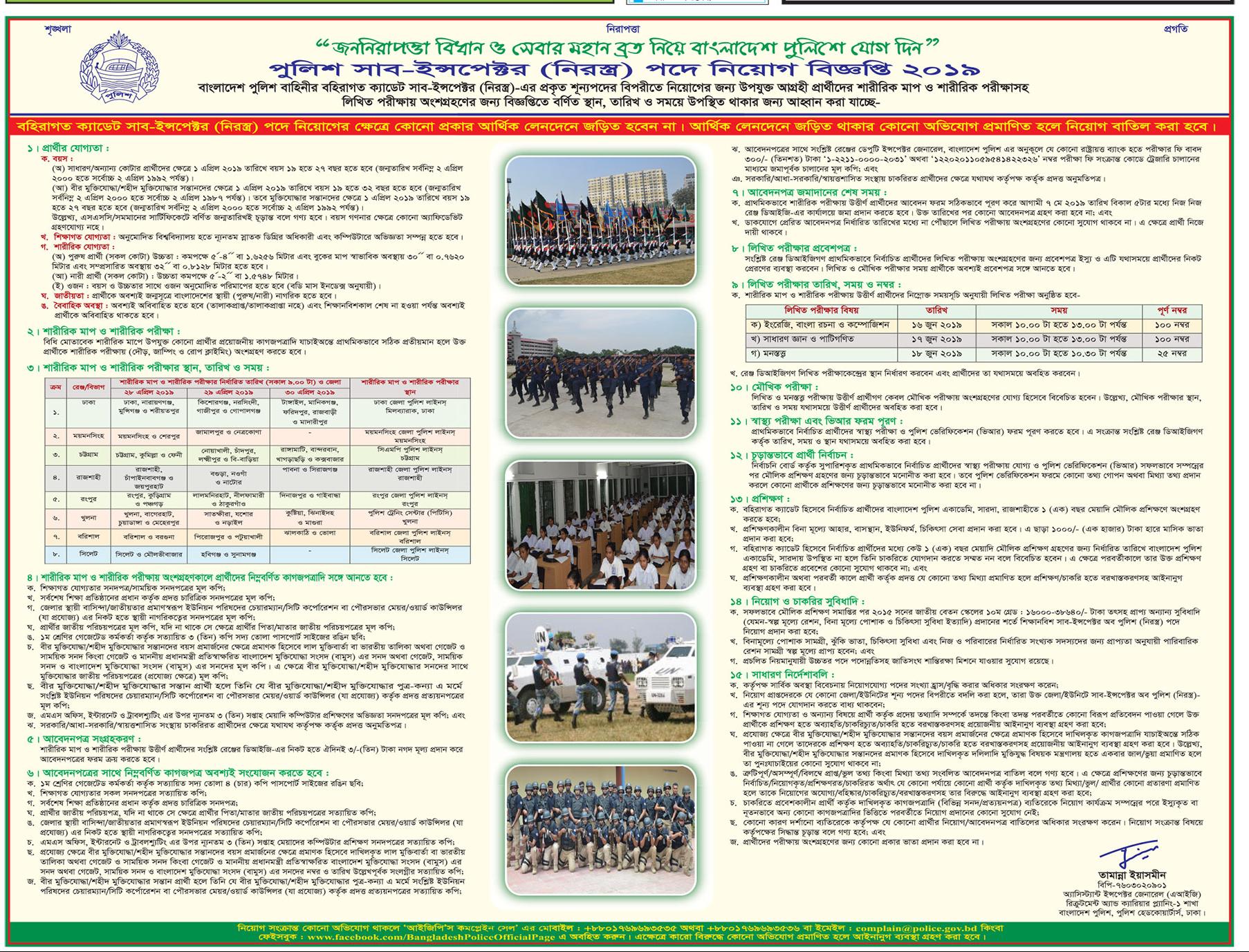 The new recruitment notice of the Bangladesh Police Force Authority is published first in our Jobsatbd. So keep an eye on our website to see all the new recruitment notice of the Bangladesh Policemen.
To read news of the government's non-government jobs, please subscribe or visit to our job news page.
Tags: chakrir khobor, চাকরির খবর, new job circular 2018, job circular 2018, bangla cyber, govt job circular,
job circular 2018, bd jobs, bd jobs today, job circular, bd govt job, bd job circular, bdjobs career,
new job circular, fire service bd, bd jobs bank, bd job circular today, bank job circular,
all job circular, all jobs bd newspaper, bd jobs ngo, all govt jobs bd, today job circular,
ngo job circular, primary job circular, recent job circular, bd govt job circular,
online job bd, all jobs bd, new govt job circular, bd careers, job site in bangladesh,
bd job news, singapore job vacancy, fire service job circular, recent govt job circular,Appointment notice to the Ministry of Primary and Mass Education, 2014, appointment notice to the Ministry of Primary and Mass Education, appointment to the Ministry of Primary and Mass Education, 019, Directorate of Primary Education DPE recent Job Circular, DPE recent Job Circular, DPE recent Job Circular, DPE recent Job Circular 2019, DPE recent Job Circular 2019, Directorate of Primary Education, Job Circular, Directorate of Primary Education, Job Circular, Directorate of Primary Education, Job Circular 2019, Directorate of Primary Education, Job Circular 2019, www.dpe.gov.bd, bd Government jobs, all jobs bd newspaper, ngo job circular, bd job news bangla, bangladesh cyber service news, bd government jobs, engineering job in bangkok, job Bangladesh, 2019, job at Bangladesh, job circular in Bangladesh, job opportunities in Bangladesh, top jobs in Bangladesh, news paper jobs, bangladesh job news, job news Bangladesh, saptahik chakrir khobor, weekly job news in bangladesh, job jobs in bangladesh Job news bd, bd job news today, recent job circular in bangladesh, job news2019 government, government job news, job news Prothom-alo, job market, today's job news, job post, job journal today, appointment notice, recruitment notice , Recruitment notice 2018, daily education, job news magazines, job news, 2019 government, job search Employment News, Jobs, news, apk, job news, bd jobs, job news.com, sapiente job news.com, weekly job news, daily job news, e job news, job news govt, appointment notice, Job recruitment notice, job recruitment notice, job9, job recruitment notice, job recruitment notice,